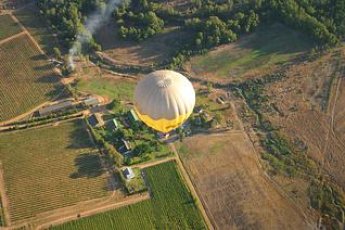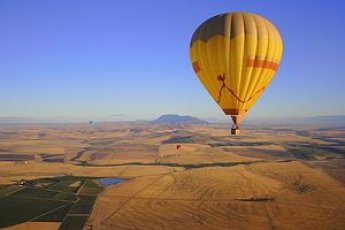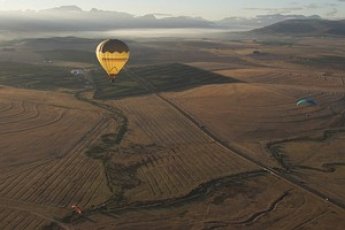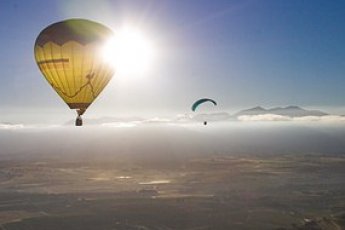 Description
Enjoy the wonderful feeling of floating through the sky as slow as a cloud and as free as a bird. Since 21 years the most romantic and exciting excursion around Cape Town. A dream adventure of a lifetime you will never forget.
Fly near the most southern tip of Africa and see Table Mountain in a distance. You will be thrilled by the blues of the silhouette of the Hottentot Holland Mountain Range, the bright green of the vineyards and the endless rolling wheat fields glowing in the sun. - We make dreams come true.
Balloonflights in South Africa take place - weather permitting - at sunrise before thermal activity starts. We make your real aeronauts by getting you involved in the rigging of the balloon and a gentle ascent takes you well above tree top level and with a light breeze you fly away over fields and vineyards. Our retrieve vehicle follows and will bring you back to Paarl, where Grande Roche Hotel expects us with a five star breakfast to celebrate this lovelly morning experience.

Features:
When?: Daily from November to April at sunrise
Where?: Meeting in Paarl, ca. 55km from Cape Town
Who?: Anyone who is fit to climb the basket and over 1,20m high
Packages
Winelands Hot Air Balloonning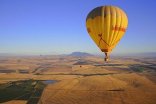 A gentle ascent takes you well above tree top level and with a light breeze you are flying away over fields, vineyards and orchards. All manoevres are smooth and silent with the exception of the short bursts of the burner. Enjoy this wonderful feeling of freedom, floating through the sky as slow as a cloud and as free as a bird.
Features Available
Wineland Ballooning offers a unique adventure in the beautiful area of the Boland. HOT-AIR BALLOON flights are taking place in the scenic Berg River Valley outside of Paarl, towards Malmesbury.
More Details
Balloon over the Winelands of the Cape - Picture by Keith PickersgillWineland Ballooning cc. is a South African registered non-scheduled Airline operating at highest standards of service since 1990. We are licensed and checked by the SA Civil Aviation Authority and pride ourselves with an impeccable safety record of over 1850 flights.
Many people from all over the world have enjoyed a flight with us but due to erratic weather and wind conditions in the Cape, cancellations happen just as often.
Therefore please allow as many days as possible to arrange your flight.
It´s advisable to phone us as soon as you arrive in the viscinity of Paarl or Cape Town to give us and yourselves the chance to organise the experience.
Even though there is a good chance that mother nature will spoil our attempts, because safety comes first and we dont´t take any risks. We had guests who only went up at their second holiday in the Cape and this gives you a good reason to come back to the "Fairest Cape of All".
Due to the wet winters in the "Green Season", our flights only take place between November and April.
Flights last appr. one hour but please allow 4-5 hours for the whole trip incl. of breakfast.
We can take a max of 4-5 passengers in the basket.
Location:
Drift effortlessly and silently along the Winelands route as you meet the sunrise over the mountains. At only an hour or two from the centre of Cape Town, this Winelands hot air balloon ride will take your breath away.
Trip Features:
After a hearty breakfast, head up to the skies early in the morning and reveal in the spectacular scenery that greets you. After an hour of silent spectatorship, the balloon takes you gently to the landing spot.
Customers who viewed "Winelands hot air ballooning" also viewed:


Paragliding has got to be one of the world's most amazing adventure activities, and where...


Welcome to the Bungy Shuttle! Scheduled overnight bungy tours to the Bloukrans Bridge. The worldâ€...