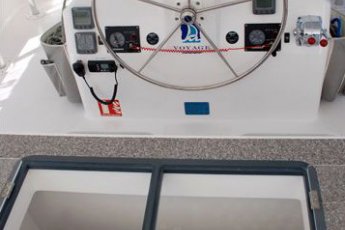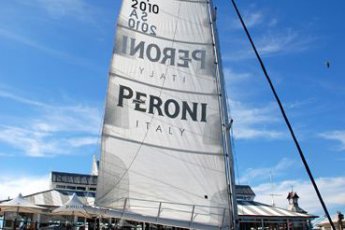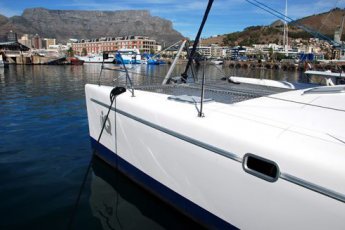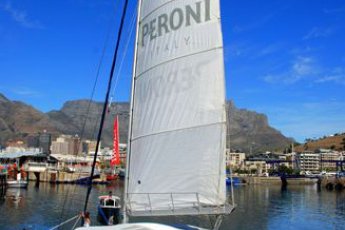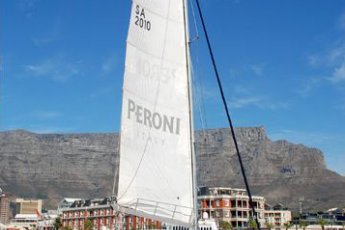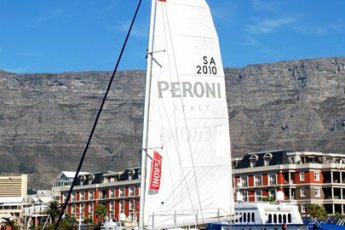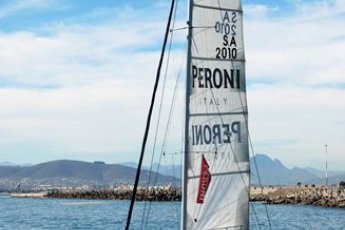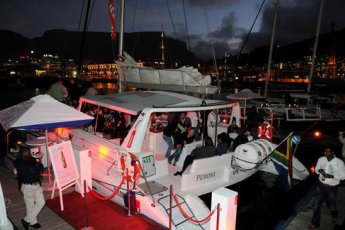 Description
The professional sailors that pioneered Day Charter catamaran sailing in 1989 with "le Tigre", in 1997 with "Tigresse" and "GQ" in 2004 are back with a brand new catamaran in 2010. The new Peroni catamaran called "iQ2010" was launched in April 2010 Even before cellphones were introduced in South Africa these professionals were running day trips from the V&A Waterfront in sailing catamarans.
NOW, the "iQ" sailing catamaran is the latest beauty from these professional Charter Operators. "iQ" is berthed right outside the Victoria and Alfred Hotel on the North Wharf adjacent to the Den Anker and Green Dolphin restaurants.
More Details
About Us
"iQ2010" is 47ft long, custom built in epoxy and foam core, very light and strong and extremely fast. Powered by twin Yanmar 40hp diesels with 3 blade Gori feathering propellers she is powerful under motor. The design has huge "dockside appeal" and is SAMSA certified.
The boat has a fully fitted galley, large stainless steel fridges, 4 double cabins, three large well ventilated toilets and a huge canopy covered cockpit for the guests. All modern electronics and Safety gear are standard.
• Customized "iQ2010" wet weather jackets for guests
• Polar fleece throws for guests
• Hot and cold pressurized water in the three large toilets
• Huge fridge space for beverages
• A complimentary beverage of your choice is offered on all of our trips
• Various Bar and Catering options for Private Charters
• PA System and excellent music system
• High freeboard so very dry for passengers
• Speed and excitement like never before
• Wheelchair friendly
• 2 double cabins
• 2 large, well ventilated toilets
Clients want to feel like a millionaire sailor, even if only on a 2 hour trip. This is the special experience that "iQ2010" will give her guests at the V&A Waterfront.
"iQ2010" is skippered and crewed by the most experienced sailors available. You will not find a more motivated and friendly crew in the Waterfront.
DAILY SCHEDULED CRUISES IN TABLE BAY
The bay is rich with history and marine life. Whales, dolphins, penguins, seals, giant sunfish and a huge variety of pelagic bird life live and play just beyond the breakwater. Enjoy this natural wildlife with Table Mountain as the backdrop onboard the brand new "iQ2010" catamaran.
PRIVATE CHARTERS:
You call the shots. Anytime departure, anytime return, any destination.1 hour or all day. Product launches, Parties, Team Building and Incentives. Very flexible Bar and Catering options.
Booking and Pre-planning is essential.
WEDNESDAY NIGHT RACING IN SUMMER:
Join us on Wednesday evenings as we mingle with the 60 racing boats from the Royal Cape Yacht Club enjoying the famous Summer Twilight Racing Series. Booking essential.
TOUR OPERATORS AND TOURISM INDUSTRY PROFESSIONALS:
Please contact us to discuss and negotiate commission structures, payment schedules, private tours and alternate departure times.
Customers who viewed "Cruise IQ Cruises" also viewed:


Spend 6 days exploring the Garden Route and Winelands at a leisurely pace. Highlights include wine...


Enjoy 3 relaxing days in the small seaside town of Hermanus, which offers some of the...