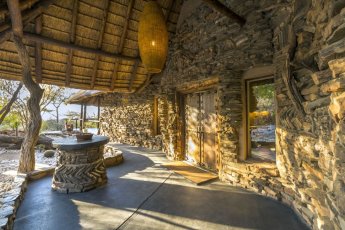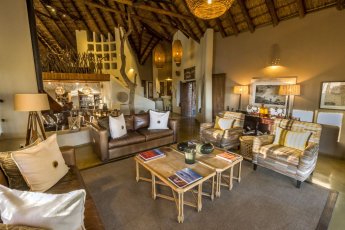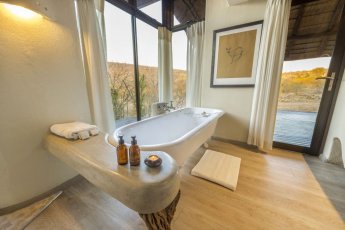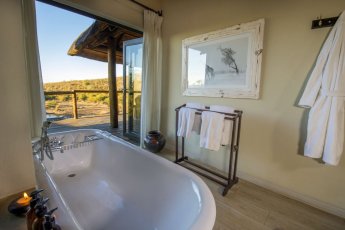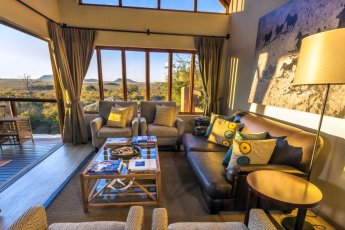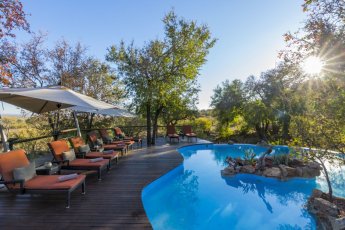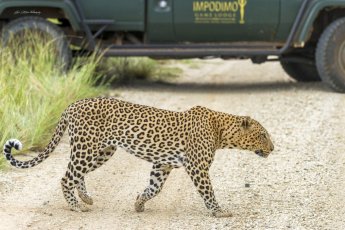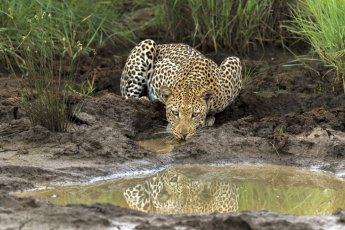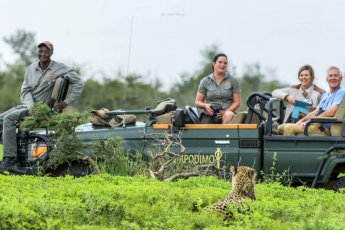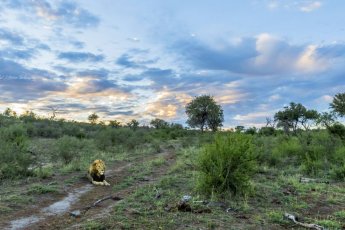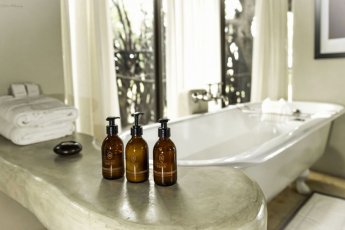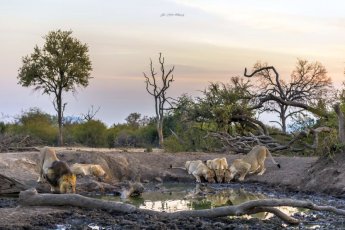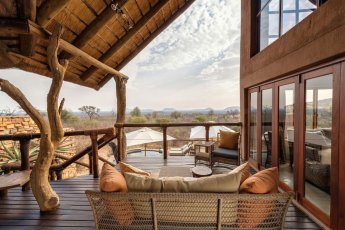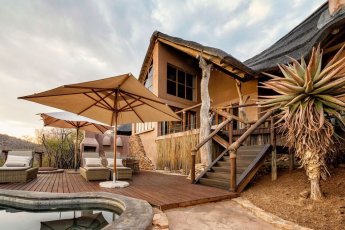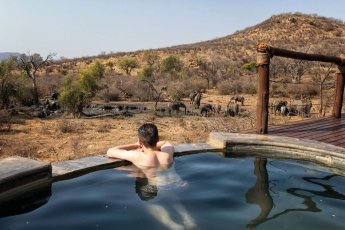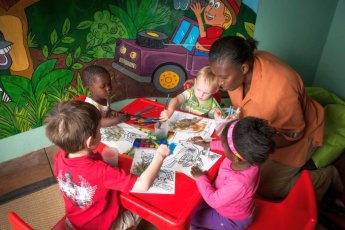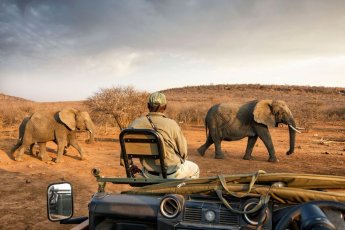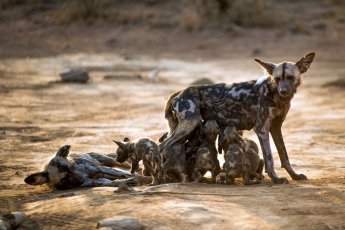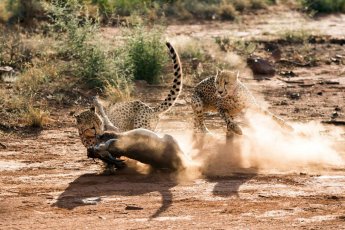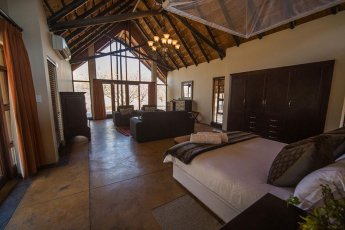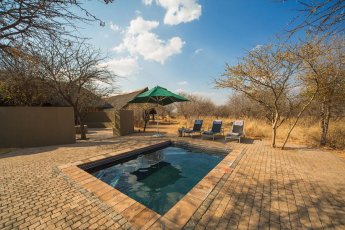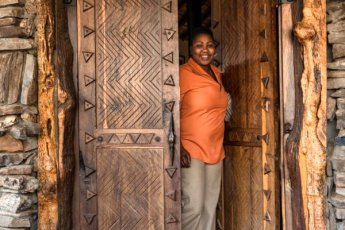 Description
Rise in the morning to an African dawn and enjoy an early morning game drive with your dedicated professional ranger. Relax as your ranger guides you through the bush on a custom made open Landrover, searching out the Big 5 or the smaller secrets of nature.
Set out on a foot safari with your armed ranger and learn the secrets of tracking African game or just enjoy the trees, birds and stunning scenery. Return from the excitement of the bush to a sumptuous breakfast or brunch and then relax at the pool or the sala overlooking the waterhole where game may come to quench their thirst. In the afternoon, when the heat of the African sun has diminished and the shadows are longer, head out again on a sundowner safari, where you will stop to watch the sun set on this bushveld paradise and enjoy your favorite sundowner drink.
Once the sun has set and darkness descends, set off again for a night safari where the more nocturnal creatures now rule the bush. Return to the lodge where you will be treated to the finest Pan-African cuisine with your hosts in the open air boma, and share your days adventures, while you enjoy a night cap around the fire.

Features:
swimming pool
Intimate lounge
Library
Outdoor dining area
Curio / gift shop
Wine cellar
Bush dinner venue
In-room spa treatments
More Details
Children on Safari
Children are welcome at Impodimo and we love to go out of our way to ensure that kids and parents both have an unforgettable safari experience. Kids may participate in our kiddies program, where the children are entertained and occupied with fun and educational activities. Each child on arrival will receive a personalised pack with goodies and activities to do in between safaris. Some of the supervised activities include biscuit baking and decoration, plaster casting of animal tracks, paper mask making, and art using leaves and seeds collected whilst enjoying a guided educational kiddies walk around the camp! Baby sitting facilities are available, so that parents can enjoy a safari or dinner without having to worry about their children. Children over the age of 6 years are allowed to join the normal safari (at the ranger's discretion), however families with younger children need not fear that their kids wont be allowed on safari. We offer the "kiddies bumble" safari which is much shorter and aimed at younger children, avoiding deliberate close encounters with dangerous game and making the experience more tactile and varied in order to keep their attention.
Trackers
When we first opened Impodimo, we had decided to offer the best possible wildlife viewing experience possible. In order to achieve this we felt it necessary to bring in top quality trackers to enhance the quality and frequency of sightings, particularly on the more rarely seen animals such as leopard, Lion, Cheetah and Wild Dogs. As the local Tswana people did not have a rich history in tracking, these skills are not well developed in the area. The tracking conditions in Madikwe are difficult due to the terrain and soil types, so in order for trackers to be successful they had to be among the best in the business. We thus took the bold step of bringing in highly experienced trackers from the Shangaan tribe originating from the Eastern Lowveld of South Africa. The Shangaan people are renowned for their trackers and we managed to entice some of the very best to come and join the Impodimo team.
How do they improve the wildlife viewing experience?
A ranger has to drive the vehicle, communicate with the guests and spot game. With a tracker you have an extra pair of very sharp and experienced eyes to help spot, meaning that the ranger will be able to drive and communicate more effectively. Most importantly these trackers are able to leave the vehicle and follow tracks on foot, finding game that would have been well out of sight of the road. When appropriate we are then able to drive off road to view these animals. As a result the sightings of species such as Leopard have become much more frequent. With more regular contact with our vehicles, many of these animals are now accustomed to their presence and do not attempt to immediately hide or change their natural behaviour. Overall this means a better quality of sighting for the guest. With the ability to actively find game, rather than relying purely on chance, we are able to confidently explore the quieter, less frequented areas of the park. It is now possible to be away from the hustle and bustle of the rest of the park users if you prefer, making a safari at Impodimo a more relaxed and exclusive wildlife viewing experience.
Customers who viewed "Impodimo Game Lodge" also viewed:


Unique, understated elegance in luxury tent accommodation. With mountains as backdrop and a magnificent waterhole...


Black Rhino Game Lodge is a hidden treasure set amongst the trees of an old...