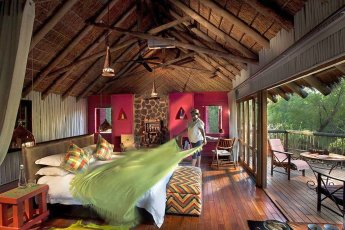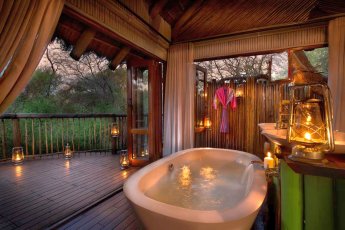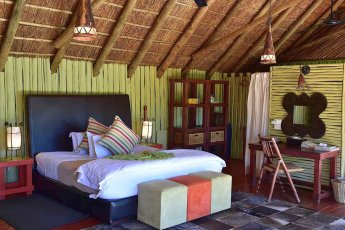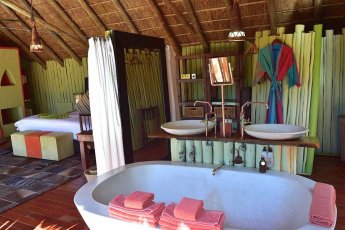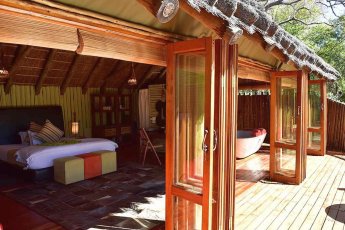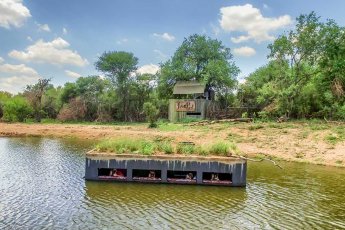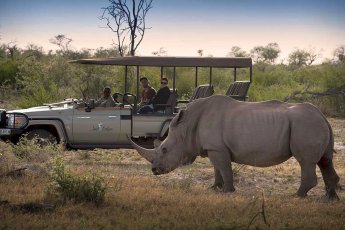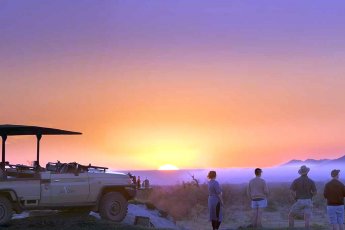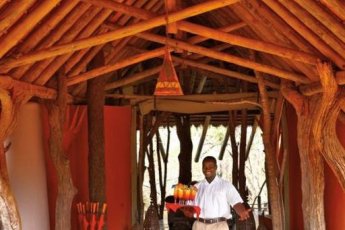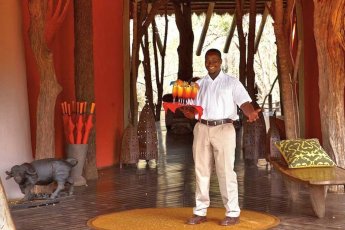 Description
Jaci's Tree Lodge, the luxurious Madikwe Game Lodge, perched high above the ground on wooden stilts, offers guests a magnificent treetop experience. The eight rooms are connected by wooden walkways and enjoy views out across the Marico River.
Made from rosewood and thatch, each "tree house" blends seamlessly into the surrounding canopy, affording fantastic bird watching. Each room includes a king-sized bed, stone bath, and outdoor shower from which you can enjoy the vista.
All rooms are equipped with air conditioning, fans and underfloor heating, to ensure your comfort at any time of year.
Decorated in bright reds and greens and complemented by modern African elements, each room also has a large balcony, an ideal spot from which to watch resident mongoose families play on the riverbanks.
Enjoy sundowners in the main lodge while listening to the sounds of the bush, or curl up with a good book by the fireplace. The large dining area in the main lodge is where guests can eat their fill of breakfast, lunch or high tea.
In such a luxurious and playful environment, this Madikwe Game Lodge makes creating lasting memories effortless.
Safari Packages
Jaci's Tree Lodge -
Bed & Breakfast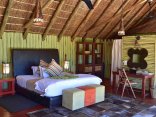 Jaci's Tree Lodge offers luxurious tree houses perched high above the ground on wooden stilts, giving guests a magnificent tree-top safari experience. The eight rooms are connected by wooden walkways and enjoy views out across the Marico River.
Features Available
More Details
Safaris
Everything in Africa bites, but the safari bug is worst of all.' Brian Jackman, wildlife writer. To experience a truly authentic African safari in the splendid Madikwe Game Reserve is truly a once-in-a-lifetime adventure guaranteed to be forever etched in your memory.
On a Jaci's Lodges safari, you can look forward to an epic experience including the possibility of seeing the Big 5 (lion, leopard, buffalo, elephant and rhino), as well as cheetah, African wild dog, hyena, giraffe and hippo – all sightings for which Madikwe is famous.
Jaci's Field Guides
Your expert field guides will always do their utmost to ensure that you enjoy an incredible bush safari adventure on our twice-daily safari drives.
Over the years, our highly qualified guides have accumulated a wonderful repertoire of anecdotes and interesting facts on local wildlife, geology, history and geography, and they look forward to sharing these tales of the wild with you, making your African safari game drive a fun and informative experience.
Should your guides see fit, they may venture off-road onto bush trails and into natural terrain to track animals.
Expect to hear languages you may not understand: Jaci's field guides will communicate sightings and recent kills via a two-way radio, using Setswana and vernacular code words.
To ensure a private safari experience, only three safari vehicles at a time are allowed at each sighting.
Our guides make stops on the morning drive for hot chocolate, coffee or tea and home-baked rusks, and in the late afternoon for sundowners and snacks while taking in an unforgettable African sunset.
Be sure to follow our field guide blog for all the up-to-date happenings at the lodge, fantastic sightings and photography.
Your Safari Schedule
Wakeup call: You will be woken by a knock on your door. Please feel free to make a cup of coffee/tea in your room, or enjoy tea, coffee and cereal at the Main Lodge before setting off on the morning drive.
Departure: The morning drive leaves from the Main Lodge and includes a stop along the way for exceptionally good coffee and freshly baked rusks.
Brunch: Enjoy a delicious continental or full-English breakfast selection, with additional lunch dishes and refreshments, on your return from the morning drive.
High tea: Refreshing homemade drinks and an assortment of savouries and pastries are served before you depart for your afternoon drive.
Departure: The afternoon drive also leaves from the Main Lodge and includes a stop for your choice of sundowner as well as stargazing after sunset.
Dinner: On returning from the drive, guests have time to freshen up before pre-dinner drinks at the Main Lodge bar, before being treated to a variety of South African-inspired, fire-cooked dishes, which we serve under the stars around the campfire as often as possible.
Safari Activities
Jaci's Lodges' photographic offering gives our guests the opportunity to learn about photography and capture those iconic safari images without having to invest in their own kit, under the guidance of our resident photographic expert, Andrew Aveley.
The Terrapin Hide is a submerged photographic hide with a water-level viewing window in the Jaci's Lodges waterhole.
Conservation safaris at Jaci's Lodges are designed to help everyday bush lovers contribute to on-the-ground wildlife conservation efforts taking place in the greater Madikwe Game Reserve.
Our walking safaris teach guests to walk in the wild with senses finely tuned to every sound and smell.
Say 'I do' in, the gorgeous African bush, surrounded by your true love and closest friends – weddings at Jaci's Lodges is a truly magical experience.
Madikwe Weather
Winters are generally sunny and dry, with temperatures varying from 0 to 24ºC.
Summers are generally wet, with spectacular thunderstorms and temperatures varying from 12 to 38ºC.
Expect sunny days for most of the year.
Packing your suitecase
Hat
Sunblock
Insect repellent
Binoculars
Camera, spare battery and charger
Long trousers
Short trousers
T-shirts
Customers who viewed "Jaci's Tree Lodge" also viewed:


Morukuru Lodge enfolds guests in peace and comfort from the moment they enter its sumptuous...

Ivory Tree Game Lodge is situated in the north eastern region of the Pilanesberg National...