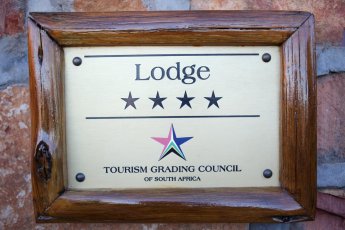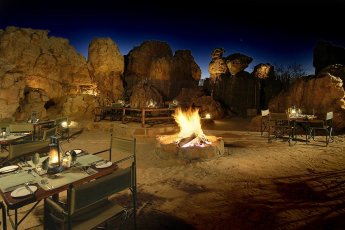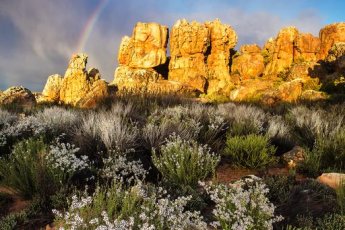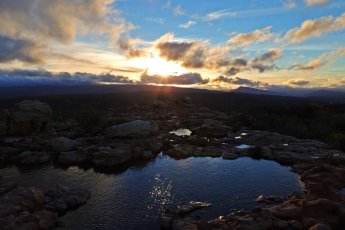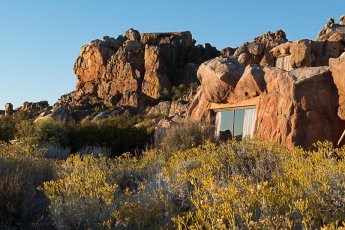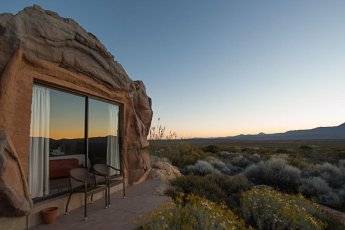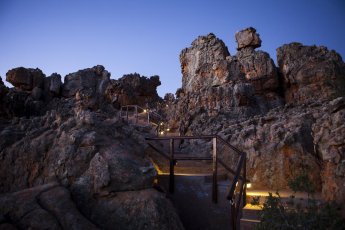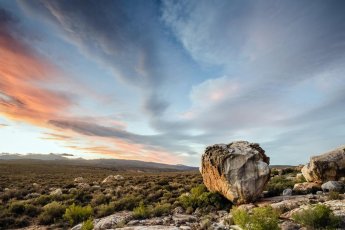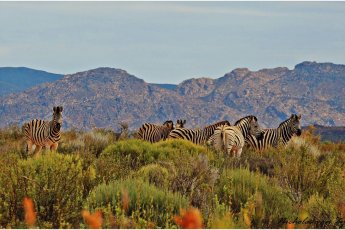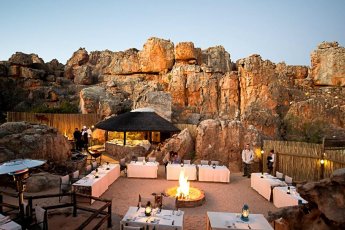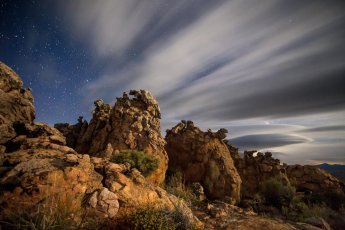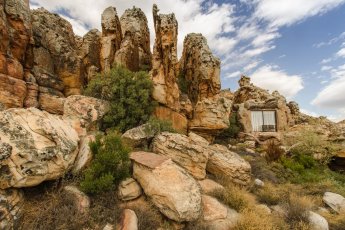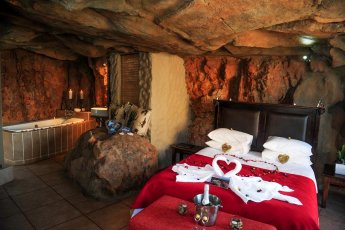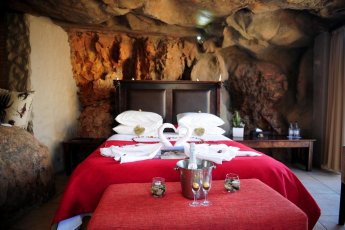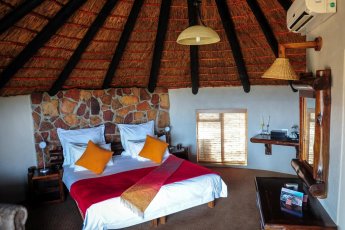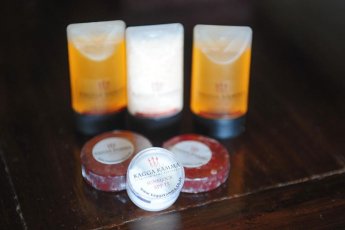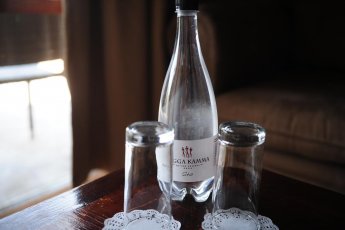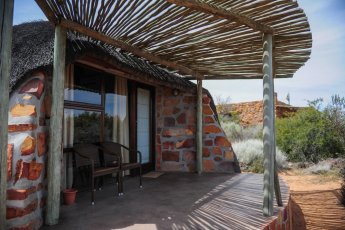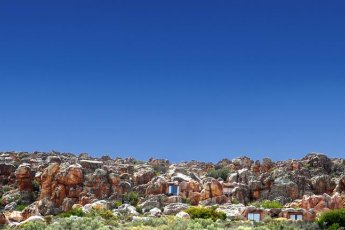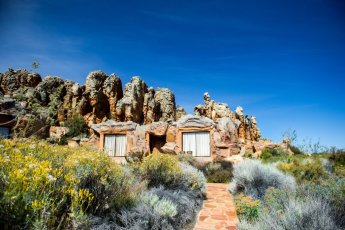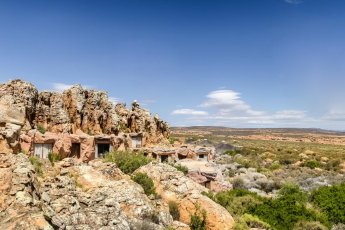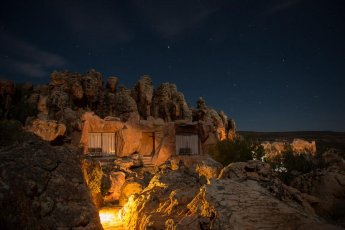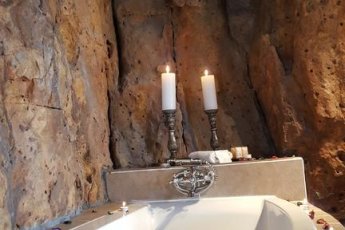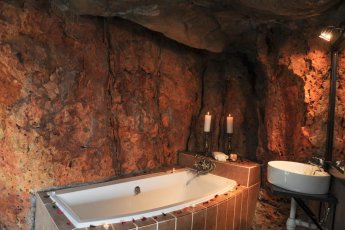 Description
Escape from the pressures of modern life and retreat to Kagga Kamma, located in the peaceful southern Cederberg Mountains. Away from mobile phones, traffic pollution, highways and city lights you will breathe a sigh and enjoy the silence and starlit skies.
The stunning location of the lodge was once home to the Bushmen, today many of their ancient cave paintings are still clearly visible on the rocks, (some dating back 6,000 years). This spiritual land offers spectacular scenery, majestic mountains, strange rock formations and phenomenal night skies, where the Milky Way, billions of stars, planets, satellites and shooting stars may be seen by the naked eye.
Kagga Kamma Private Game Reserve South Africa is located in an untouched wilderness area south of the magnificent Cederberg mountains, three hours from Cape Town near Ceres, South Africa. The reserve is well known for its scenic beauty and dramatic rock formations typical of the Cedarberg, has a rich cultural heritage with hundreds of Bushman/San rock paintings or rock art of up to 6000 years old and is a unique safari in South Africa. On our San Cultural Tour guests can appreciate the ancient Bushman living sites at first hand and get an in-depth interpretation of the rock paintings from one of our expert guides. On guided open 4x4 safaris guests can also learn more about the various species of plants and animals that inhabit this arid area, experience the Southern night skies by powerful telescope and enjoy a sundowner with spectacular views from the escarpment into the Ceres-Karoo lying 700m lower. Guided quad bike safaris takes you to some remote, inaccessible parts of the reserve while powering your own bike! Spend your free time hiking on one of our hiking trails, bird watching or relaxing at the lodge's swimming pool built into the stunning Cederberg rock formations. Our Health and Beauty Spa offers a wide range of wellness treatments including deluxe manicures and pedicures, hot stone therapy and luxury facials.
More Details
Accommodation at this luxurious game lodge
Nestled between unbelievable Table Mountain sandstone formations and resembles bushman "caves" and rondavels, all with en-suite bathrooms. In the open-air boma restaurant guests can enjoy sumptuous South African cuisine, including venison dishes, and an excellent selection of wines from the nearby Cape winelands. Air-conditioned conference facilities is available at the lodge for up to 70 guests.
South Africa safari to the lodge of the reserve can be arranged from Cape Town International airport, south Cape Town, hotels Cape Town South Africa or your guesthouse in Cape Town, Constantia, Stellenbosch, Paarl, Franschoek and Somerset West. A visit to Kagga Kamma private game reserve is an ideal african safari add-on to a tour through the South Africa Cape Winelands, South Africa West Coast, Route 62 and Garden Route of the Western Cape, South Africa.
Restaurant & Pub
Bushman Lodge has a restaurant for breakfast and lunch and an outdoor lapa surrounded by beautiful rock formations for dinner under the starlit night skies in summer time when the weather permits. There is a cosy pub and lounge area with WiFi internet as well as satelite TV for watching sports events. The outdoor garden area is perfect for relaxing and sipping a cool drink.
There is a range of excellent wines to compliment your meal. Dinner-time offers a fabulous "A la Carte" menu.
Wellness & Relax Spa
Kagga Kamma Relax Spa invites you to lay back and relax at one with nature!Indulge yourself in a range of TheraNaka™ Massages where you have a choice between Relaxing, Uplifting or Detoxifying. Or enjoy a relaxing facial using Environ® products along with a deluxe manicure and pedicure.
Conferences & Events
Our conference facility is fully equipped and has air-conditioning. It can accommodate up to 80 delegates in cinema style, 40 in classroom style and 24 in U-shape. Situated at the Bushman Lodge, it provides an ideal setting for hard work during the day and lots of outdoor activities to choose from to take a break.
With the unbelievable quiet and untouched environment, this is a conference paradise!
Activities
Rock Art Tours
Scattered all over Kagga Kamma Game Reserve you'll find ancient bushman living sites. Our expert rangers will interpret the Bushmen paintings, some of which are up to 6000 years old, and their fascinating culture on guided tours and walks.Or discover paintings on your own on some of our self-guided hiking trails.
Game & Nature Drives
This arid reserve is situated partly inside the Ceres Karoo, the area of South Africa with the lowest annual rainfall. Dry Mountain Fynbos and Succulent Karoo provide grazing for the animals that are well adapted to the arid western part of South Africa.
Qualified guides take you on a sundowner drive to have drinks with breathtaking views over the Ceres Karoo and Cederberg. Morning and night nature/game drives take you onto this 15000ha reserve to spot resident species, such as, Black Wildebeest, Ostrich, Zebra, Springbok, Red Hartebeest, Bontebok, Gemsbok and other antelope species including the huge Eland. If you are lucky you might see some lynx, black backed jackal or even the elusive cape mountain leopard. The guides will also point out some of the many bird and reptile species as well as interesting facts about the plants of the area.
Mini-Observatory
With the crisp, clear air, dark nights and relatively high elevation Kagga Kamma is perfect for stargazing. See the stars and planets closer than ever at our Mini-Observatory. Our resident expert will dim the lights to ensure you get the best possible views of the night skies through our 10-inch telescope, including close up views of the moon and planets and other deep space objects. A truly unique experience.
Hiking Trails
Explore our self-guided hiking trails and walks to experience this magical land close-up. Look around the rocks and crevices and 'discover' your own rock paintings - feel like you step back in time to when the bushman people still lived here in total harmony with nature. An awe-inspiring experience for nature lovers.
Quad Bike Safaris
Guided quad bike safaris take you to areas of the reserve not otherwise accessible while enjoying the fun and excitement of riding your own quad bike. Options of 1 or 2 hour excursions done on request.
Customers who viewed "Kagga Kamma Private Game Reserve" also viewed:


Buffalo Thorn Lodge is an exclusive private, luxury lodge; a peaceful sanctuary nestled in the...


The Bush House is not your typical Game lodge. The Lodge is set in the...