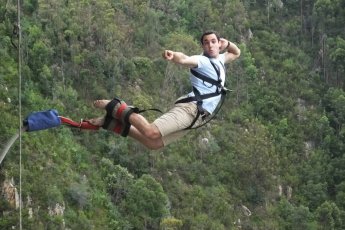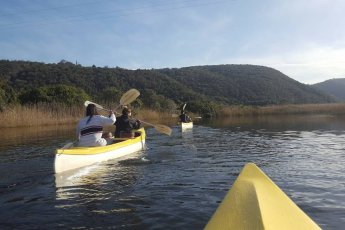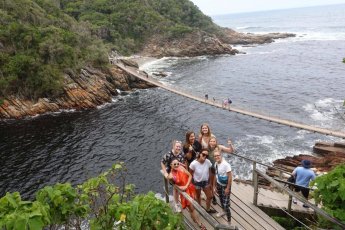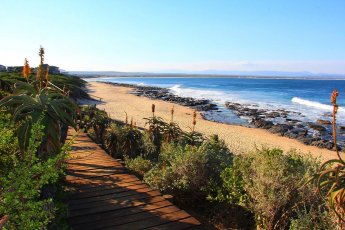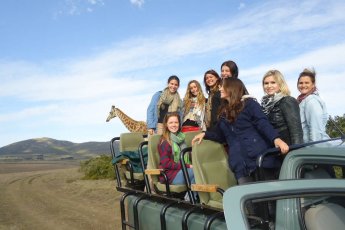 Description
You don't have much time but still want to explore the entire Garden Route? Climb aboard this 3 day tour (one way) where we go on a Big 5 Safari, visit an elephant and a monkey sanctuary, do the World's Highest Bungee, surf in J-Bay and squeeze throught the Cango Caves!
More Details
Tour Itinerary
Day 1
Cape Town to Sedgefield via Oudtshoorn
Little Karoo, Oudtshoorn, Cango Caves
We leave the Mother City behind and head into the semi-arid Little Karoo along the scenic Route 62 driving to the town of Oudtshoorn, known as the ostrich capital of the world, it is situated in a beautiful, fertile valley between the Outeniqua and Swartberg Mountains. Here you can choose between:
The Cango Caves where we will embark on a 1-hour guided tour of the cave system to view its massive caverns and a wonderland of stalactite and stalagmite formations, millions of years old. Cango Caves is a world heritage site and one of the great wonders of the natural world. Or if you enjoy spelunking and don't mind trying to squeeze through some smaller gaps then you are also welcome to take the 1.5 hour adventure tour!
OR
If caves are not for you, then you will be able to visit an Endangered Wildlife Rehabilitation Sanctuary, home to many local and exotic endangered species.
Next is an option to visit an Ostrich Show Farm to learn more about the industry and a chance to get up close.
We then head over the Outeniqua Mountains to the lush coastal region known as the Garden Route where we will head to the beach town of Sedgefield where we spend our first night.
If time allows we will also head to the beach for a swim in the Indian Ocean.
Meals: Dinner
Accommodation: Backpacker dorm: Sedgefield
Route: Cape Town – Oudtshoorn – Sedgefield 520km
Travel time: ±6.5 hrs
Included Highlight: Cango Caves (Adventure or Standard Tour) OR Endangered Wildlife Rehabilitation
Optional Activity: Tour of an Ostrich farm
Day 2
Sedgefield to Jeffrey's Bay
Bloukrans Bungee, Elephants Bush Walk & Tsitsikamma National Park
This morning we drive through Knysna on our way to the Crags where you have a number of options to choose from:
Visit a sanctuary for orphaned elephants where you have the option to learn about these gentle giants and go on an Elephant Bush Walk
OR
Visit a Monkey Sanctuary where rescued monkeys roam free in a large jungle area
Our next stop is the World's highest commercial Bungee Jump at 216 meters where you have the opportunity to experience this adrenalin pumping activity. After an adrenaline rush at the bungee we take a walk through the indigenous Tsitsikamma National Park to the Storms river swing bridges before we head to the famous surfing town of Jeffreys Bay where we stay at a backpackers directly on the beach.
Meals: Breakfast & Dinner
Accommodation: Backpacker dorm: Jeffrey's Bay
Route: Sedgefield to Jeffreys Bay ±220km
Travel time: ±3 hrs
Included Highlight: Tsitsikamma Nartional Park
Optional Activities: Elephant OR Monkey Sanctuary, Bloukrans bungee jump (216m), Bloukrans Bridge walking tour
Day 3
Jeffrey's Bay to Addo Elephant National Park
Game Drive (Addo), Surfing / Shopping time (Jeffrey's bay)
There are 2 options to choose from this morning.
Sleep in and take some time in the morning to explore the town's many surf factory shops, or go for a surf lesson in one of the most famous surf spots on earth.
OR
Wake up early and head to Addo Elephant National park where we go on a morning game drive to view the multitudes of wild animals. Addo is home to the Big 5 and it also has the highest concentration of African Elephants in the world!
Meals: Breakfast
Route: Jbay – Addo NP – Sedgefield/PE/Jbay/Knysna ±470 km's
Travel time: ±6 hrs
Included Highlight: Addo Entrance & Game Dive with Cape to Addo Guide & Vehicle OR time in Jeffrey's Bay
Optional Activities: Addo Game Drive with SANP (morning) OR Surf Lessons, Shopping
Tour Ends
Your 3 Day 1WAY Tour will end here. Drop off can be in either Port Elizabeth OR Jeffrey's Bay OR Knysna. Please be sure to advise us upon booking your tour. If you are requesting a drop off in Port Elizabeth at the Airport, drop off will be anytime from 13:00/14:00, so be sure to book your flight for a later departure.
Tour price Includes:
All accommodation + bedding
All transport in comfortable bus with AC & CD player
Qualified and registered tour guide
2x Breakfast, 2x Dinner
Cango Caves OR Wildlife Rehabilitation Sanctuary
Tsitsikamma National Park
Addo Entrance & Game Drive with Cape to Addo Guide
Stop & overnight in Jeffrey's Bay
Optional extras:
Please note that these rates are subject to change without prior notice as per the service providers. You do not have to pre book and pay for these. Just advise the guide on the day which ones you want to do and you then pay for it on the day when you are there (cash/card).
Addo NP - Game drive with SANP - R440 pp
Tsitsikamma - Bloukrans Bungee Jump - R1400 pp
Tsitsikamma - Bloukrans bridge walking tour - R150 pp
The Crag - Elephant Bush Walk - R670 pp
The Crags - Monkey Sanctuary - R280 pp
Jeffrey's Bay - Surfboard & wetsuit rental per hour - R300 pp
Oudtshoorn - Ostrich Farm - R125 pp
Customers who viewed "3 Day Cape to Addo Safari Tour (one way) (Xtr)" also viewed:


This package tour is a great option for anyone who wants to experience some of...


Looking to explore the Garden Route in one epic weekend?