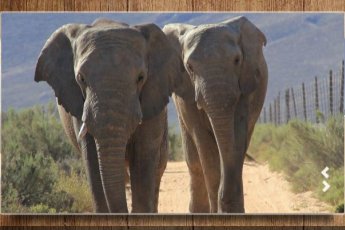 Description
Spot abundant wildlife by exploring three national parks along the Garden Route on South Africa's South-eastern coast – including Tsitsikamma, Wilderness and Addo National Park.
Swim in the Indian Ocean, surf the famous waves of J-bay, have close encounters with ostriches, cheetah, elephants and even walk with lions!
Set your sense of adventure free and get your adrenaline pumping by taking part in a selection of exhilarating adventure activities such as Bungee jumping and Waterfall Zip-lining in paradise.
More Details
Day 1
Cape Town to Wilderness/Sedgefield Area
Morning pick-up from your accommodation in selected Cape Town, Stellenbosch, Somerset West or Strand areas.
WILDERNESS CANOE
Eighteen kilometres of beaches cooled by sea spray, five lakes, five rivers and two estuaries, Wilderness is one of nature's jewels in the crown and a protected National Park. Canoe on the Wilderness lagoon and watch the bird life while gliding over the water in a pure encounter with nature.
LION WALK (Optional with Extra Cost)
Walk alongside Africa's most majestic predator. Interact with young lions on foot. The walk takes approximately one hour to complete – depending on how fast the lions are prepared to stroll. No leashes or collars, but supervised by expert handlers.
MYOLI BEACH
An undiscovered beach paradise, perfect for swim or surf in the warmer Indian ocean.
OVERNIGHT
Wilderness area
Day 2
Wilderness/Sedgefield Area to Jeffreys Bay
KNYSNA
Nestled between forested mountains, sea and curving around a big lagoon, we visit The Heads, where the sea crashes through these two massive sandstone cliffs.
WATERFALL ZIP-LINE (Optional with Extra Cost)
The eight slides, of which the longest is 211m, zigzag along cables across the river gorge, as high as 50m above the water in some places. If you don't want to do the zip-line experience, you can go for a walk in the forest.
TSITSIKAMMA NATIONAL PARK
Spend time in paradise as we explore the marine reserve with its unique combination of dramatic coastal and forest landscape.
BLOUKRANS BUNGEE JUMP (Optional with Extra Cost)
Face your fear and jump from the world's highest bungee jump or watch the adrenaline junkies as they scream through the air.
OVERNIGHT
In Jeffreys Bay area*.
Day 3
Jeffreys Bay to Addo
ADDO NATIONAL PARK GAME DRIVE (±2h in Tour Bus)
Addo National Park is the third largest national park in South Africa; a world of diversity, varied landscapes, fauna and flora. The lush vegetation provides protection and a rich food source supporting the densest population of wild elephants on the planet. Today this finely tuned ecosystem is sanctuary to over 500 elephants as well as lions, buffalo, black rhino, spotted hyena, a variety of antelope and zebra, and other species.
EXTENDED GAME DRIVE (Optional with Extra Cost)
An extra 2 hour game drive in 4×4 vehicle with ranger in Addo National Park.
J-BAY BEACH TIME & SHOPPING
Go for a quick surf or just chill out at the beach. The backpackers hire out surfboards and wetsuits at extra cost. Or, shop at surfwear factory shops for excellent deals on well-known labels.
OVERNIGHT
In Jeffreys Bay area*.
Day 4
Jeffreys Bay to Oudtshoorn
OSTRICH FARM VISIT
Tour a working ostrich farm. Learn about the flightless, tallest and heaviest bird in the world.
CANGO CAVES
These caves are an illuminated wonderland of subterranean magic and mystery, with passageways and chambers meandering far below. The tour will explore the narrow passages and vast halls filled with colourful ancient stalactites.
OVERNIGHT
In Oudtshoorn
Day 5
Oudtshoorn back to Cape Town
ELEPHANT FEED & RIDE (Optional with Extra Cost)
Fall in love with these orphaned, gentle and lovable giants. Learn about their background and behaviour as you touch, feed and even experience the exhilarating adventure of an elephant back ride. (±45 Min. Experience Incl. 10 Min Ride )
CANGO WILDLIFE RANCH (All Optional Activities with Extra Costs)
A sanctuary to some of the world's most endangered animals that contributes to the conservation of over 60 species. This is your opportunity to experience personal 'Animal Encounters' – touch cheetahs, hug Bengal tiger cubs, wrap yourself in a python, and even dive with Nile crocodiles!
ROUTE 62
Along South Africa's famous country road you'll capture the beauty of high mountains, twisting passes, rugged Karoo plains, vineyards and orchards.
Travel back to reach your accommodation in Cape Town, Stellenbosch, Somerset West or Strand areas by early evening.
Customers who viewed "Ultimate 5 Day Garden Route Tour (Dow)" also viewed:


Experience this exciting and eco-friendly tour around the streets of Soweto. Go out for a...


Explore the history and evolution of the Mother City and the Cape with a special...