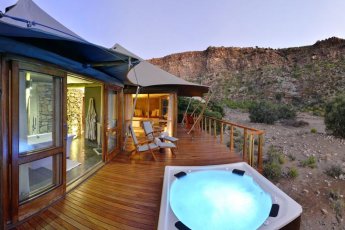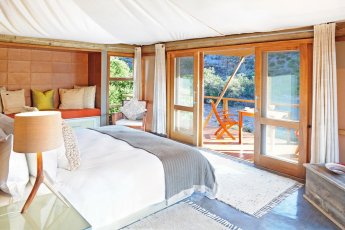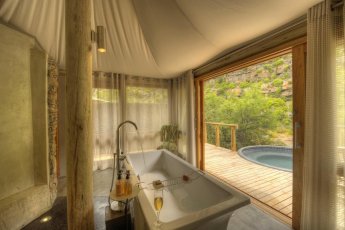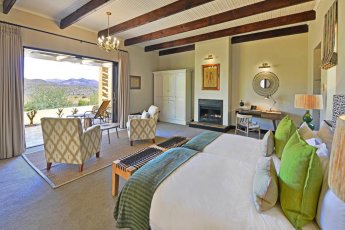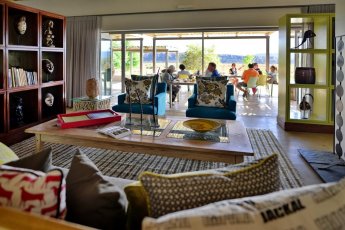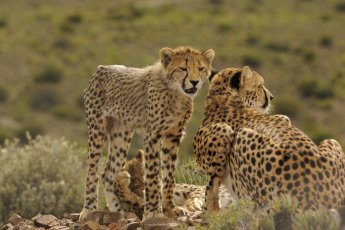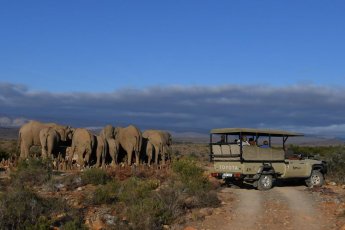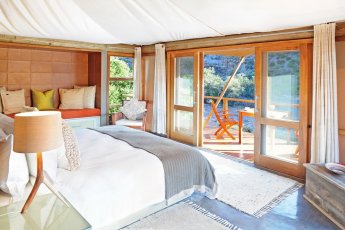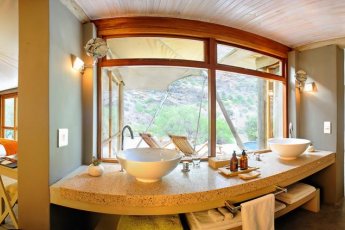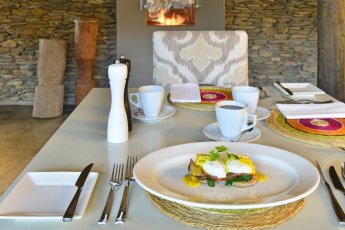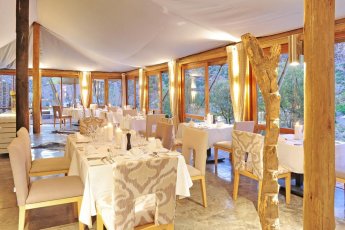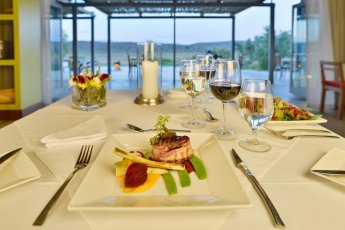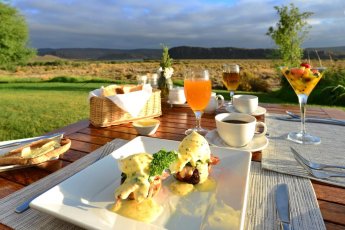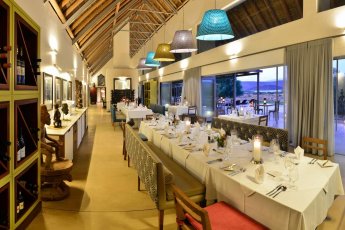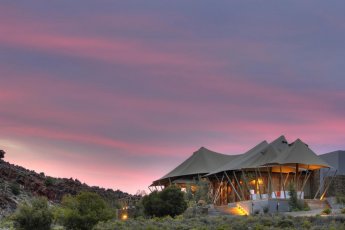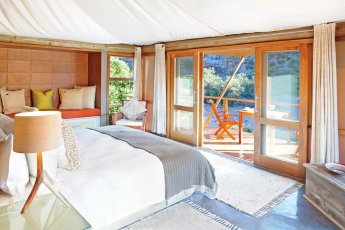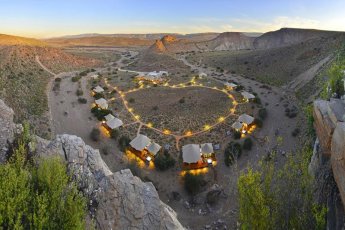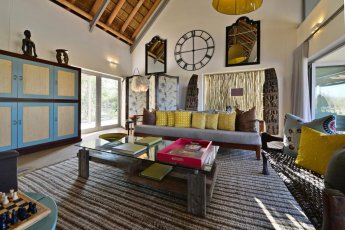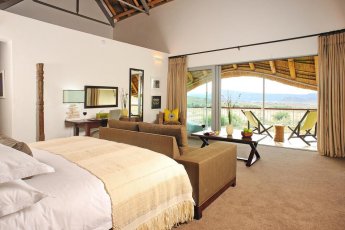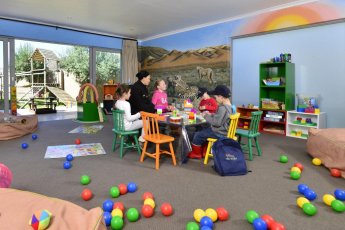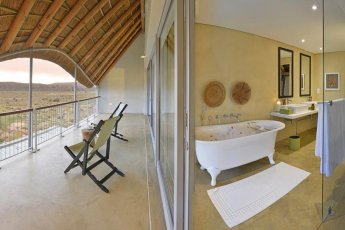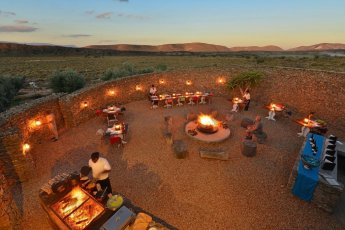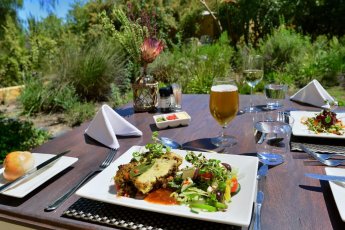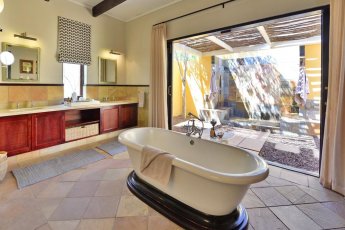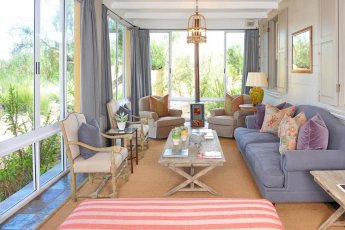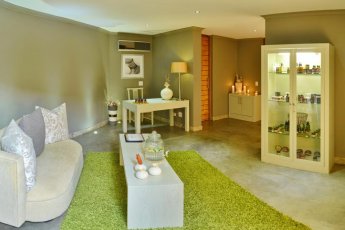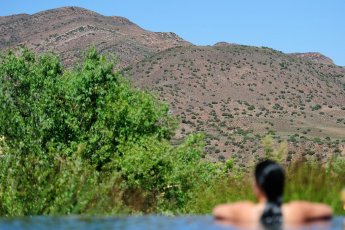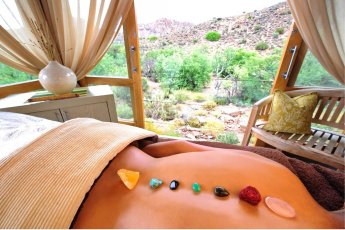 Description
Situated at the foot of the Warmwaterberg Mountains, Sanbona pays tribute to the San people who trekked this earth in the heart of South Africa's Klein Karoo. Sanbona has an alluring atmosphere of stillness, an air of isolation amid the raw beauty and boundless plains. Sanbona and the spirit of the San people welcome you.
Sanbona Wildlife Reserve incorporates three luxury lodges - each one unique with its own essence. Lodges are designed in harmony with their surroundings where guests can experience nature in sublime comfort. All lodges operate independently, each with a full staff compliment including its own management team, chef brigade, hosts and experienced field guides.
More Details
Conferences & Incentives
Sanbona is a place to relax and feel inspired, a magnificent reserve of 54,000 hectares where big cats roam free. Get away from it all and give your team the chance to focus on business strategy and development without being interrupted, in a truly relaxed and inspiring environment. An entire team-building experience can be tailored to suit your individual requirements, from star gazing, understanding conservation and retracing the steps of the San people, to tracking cheetah and getting a glimpse of the white lions that call Sanbona their home.
Weddings at Sanbona
There is no more romantic place for a Bush Wedding than at Sanbona Wildlife Reserve.
Our Wedding Package is based on two people (bride & groom) and is excluding accommodation.
Game Drives
Traverse the landscape of Sanbona Wildlife Reserve with a qualified ranger in comfortable open Landcruisers. During the drive, be it in the early morning or for sundowners, various species of plants, animals, big game and birds can be seen.Sundowner evening drives offer spectacular displays of light as the evening sun sets over the Little Karoo.
Birdwatching
For the avid birdwatcher, Sanbona Wildlife Reserve is home to more than 200 species. There is a very healthy population of raptors to be seen including African Fish Eagles, breeding pairs of majestic Black Eagles and regular sightings of Black Harrier.
Interesting birds on the Reserve include the Cinnamonbreasted Warbler only seen in the early light of dawn. The Booted Eagle in the pale form breed well on the Reserve, while the Southern Grey Tit intrigues one with its 13 different calls. The Namaqua Sandgrouse travels up to 80kms in search of water, collecting droplets in its breast feathers, flying back to the nest to give the moisture to its chicks. Blackwinged Stilts can be viewed foraging in and around water areas.
Due to the unobtrusiveness of Sanbona Wildlife Reserve, the birds are at ease, affording one with good viewing.
Relaxation Retreat
Step into a soothing sanctuary at the Relaxation Retreats at Sanbona.
At our Relaxation Retreats, Mother Nature is brought indoors for indulgent pampering. Our body range draws on properties from the world famous indigenous "Fynbos" plant kingdom, eliminating toxins, soothing the soul and rejuvenating the body.
The Relaxation Retreats at Sanbona overlook ancient rock formations and undulating mountains and plains. While the rejuvenating forces of nature cradle you, we deliver a range of world-class treatments and holistic modalities to balance and energise your being. Step into the privacy of our tranquil retreats – let the gentle atmosphere envelop and embrace your body, mind and soul.
Flora & Fauna
Sanbona Wildlife Reserve has about 600 species of plants and it is intriguing to know that various species are flowering at different times throughout the year, although some more prolific between August and September.
Approximately half of the reserve used to be livestock and agricultural farms and all aspects of farming are systematically being removed. There are various floral kingdoms that make up the Reserve. These include Acacia Thickets, Nama, Karoo, Renosterveld, Succulent Karoo and Central Mountain Fynbos. Succulents are especially varied and fascinating with names like Baby's Bottoms, Ostrich Toes and Pig's Ears.
Animals that roamed the area freely living amongst the San but were eradicated are being reintroduced. The Big 5 – Lion, Leopard, Buffalo, Elephant and Rhinoceros as well as various other species such as Gemsbok, Springbok, Hartebeest, Eland, Kudu, Black Wildebeest and Zebra will be seen on Sanbona Wildlife Reserve. Natural small game such as Jackal, Caracal, Aardwolf, Ant bear, Brown Hyena, Grey Rhebuck, Steenbuck, Klipspringer, Grysbok and Common Duiker continue to thrive.
Nature Walks
Discover the spirit of the Little Karoo on foot and see the many treasures on the Reserve.
An optional walk with the guidance of a ranger can be arranged to cater for individual needs. From gentle strolls, taking in the breathtaking beauty of the indigenous fauna and flora, to challenging trails discovering isolated vistas, reveal the beauty of Sanbona Wildlife Reserve.
Be it a gentle walk, or challenging trail to a secluded rock pool which invites one to submerge into its invigorating bliss and then returning to your lodge for a scrumptious meal, Sanbona Wildlife Reserve has all of this and much more to offer.
Customers who viewed "Sanbona Wildlife Reserve" also viewed:


Morokolo Safari Lodge is situated on the northern slopes of the Pilanesberg mountains in the...

Ivory Tree Game Lodge is situated in the north eastern region of the Pilanesberg National...